Front Hub Bearing Assembly & Link Kit For Chevrolet Silverado 1500 GMC Sierra XL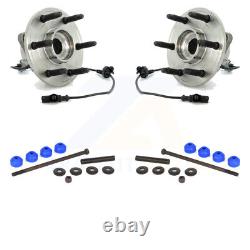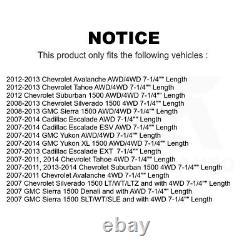 Front Hub Bearing Assembly And Link Kit For Chevrolet Silverado 1500 GMC Sierra Tahoe Suburban Yukon Cadillac XL Avalanche Escalade ESV EXT K7T-100706. This Kit includes 4 parts. 2x Front Wheel Bearing and Hub Assembly (Both Sides). 2x Front Suspension Stabilizer Bar Link Kit (Both Sides). Kugel Bearings use premium quality Chevron Grade 2 molybdenum grease.
TOR exclusive USA-engineered powdered metal gusher bearing design enables grease to flow through the bearing to the stud for reduced friction and enhanced strength and stability. Exclusive multi-lip seals are made with Nitrile Rubber (NBR) which can successfully function at temperatures of-40°C while resisting contaminants from fluids and debris. Premium cover plate design allows for tighter tolerances vs traditional cover plate designs, providing a more durable and extended life for the link kit.
Transit Auto offers the most comprehensible bearing and suspension kits on the market. The unmatched robustness coupled with longer lasting components make our kits the best sellers in every category. Transit Auto kits are the go-to kits for thousands of reputed mechanical shops in North America and are now available to customers.
Some rural, RR and remote areas may be excluded from this policy. In such cases, we will contact you to make further arrangements. Inspect your order upon receiving it, and make sure to notify us of such issues within 2 days of receiving your order.
Do you guarantee part fitment and compatibility with my car? In addition to Year, Make, Model, pay attention to any specific details noted within the fitment table. This includes trim, engine, body doors, transmission, etc. We are always here to help you with any questions or concerns you may have. Our team at Parts Pioneer is dedicated to providing the best customer service possible.
Thank you for choosing Parts Pioneer! Service disponible en français aussi!
Écrivez-nous en français et nous vous fournirons tout ce dont vous avez besoin. Merci d'avoir choisi Parts Pioneer. 07:00 - 22:00. 08:00 - 21:00.