Street Edge 07-13 Chevy GMC Silverado Sierra Ext/Crew Cab 4/6 Lowering Kit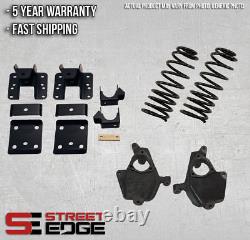 Street Edge 07-13 Silverado/Sierra Ext/Crew Cab 4/6 Lowering Kit. Our spindles maintain critical suspension geometry eliminating excessive ball joint, shock and tire wear common to other methods of lowering. Each spindle is built from high strength ductile iron, providing the structural integrity to meet and exceed all factory specifications. Street Edge flip kits are designed to relocate the rear axle of your truck/suv.
All rear flips kits are manufactured with high quality steel and feature a durable powder coat finish and high quality hardware. Each coil is built from chromium alloy steel and is wound, shot peened and powder coated to exact specifications to assure the proper ride height, ride quality and long life you expect from Street Edge USA products.
1" to 2" Lowering Springs. 5" to 6" Flip Kit. We recommend using a shock designed for lowered suspension with this product. Spindles require 17 wheel or larger. This kit can be adjusted to from 3/5 to 4/6 without an extra parts.
If you keep your factory hanger and DO NOT use the included hanger you can achieve 7 of drop, making your overall drop 4/7. On V6 models you may experience up to 1/2 difference in lowering height due to the lighter weight of truck. We recommend the use of Belltech shocks which we have in-stock.