Sub Box+(2) Kicker 10 Subwoofers+Amp+For 07-13 GMC/Chevy Sierra/Silverado Crew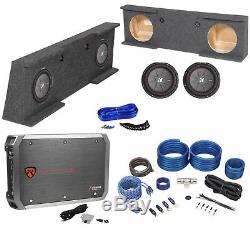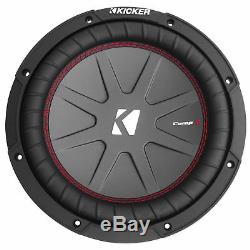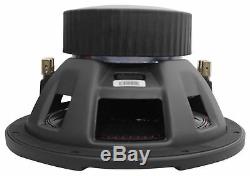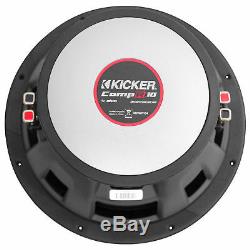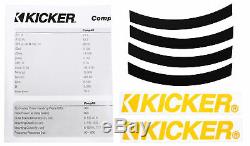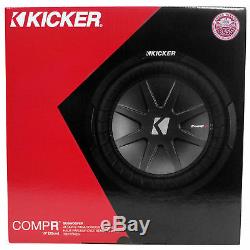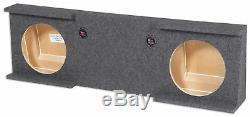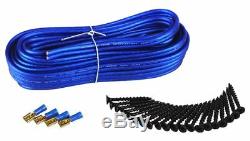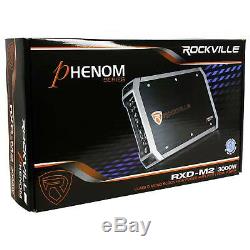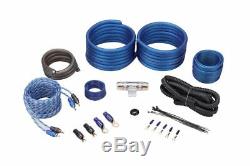 Package: (2) Kicker 43CWR104 10" 1600 Watt Dual Voice Coil 4-Ohm Car Stereo Subwoofers + Rockville REC13 Dual 10" 07-13 GMC, Chevy Sierra, and Silverado Crew Cabs Subwoofer Box + Dual Enclosure Wire Kit With 14 Gauge Speaker Wire + Screws + Spade Terminals + Rockville RXD-M2 750 Watt RMS - CEA Compliant Mono Class D 1 Ohm Car Stereo Amplifier + Rockville RWK41 4 Gauge 2 Channel Complete Wire Kit With RCA Cables. Condition: BRAND NEW IN ORIGINAL PACKAGING.
(2) Kicker 10 Car Stereo Subwoofers. (1) Rockville Dual 10 Sub Enclosure Box 07-13 GMC/Chevy Sierra/Silverado Crew Cabs.
(1) Rockville RWK41 4 Gauge Complete Car Amp Wire Kit w/RCA's. 20 Drywall Wood Screws (Wood screws are the type of screws; the screws are actually made of metal). 20 Feet of 14 AWG Blue Speaker Wire. Ty to another level with a single pair of stout, push-button wire terminals featuring a convenient impedance-selector slider for easily changing the dual-voice-coil impedance (2/8 Ohms or 1/4 Ohms, depending upon model). No additional wiring is needed for switching between series or parallel configurations.
Besides convenience, CompR delivers the deepest musical bass and is made to work perfectly with KICKER KX-Series mono amplifiers. The motor structure itself is a mechanical marvel, utilizing a large-diameter, progressive-roll spider for increased linearity and better sound with high-strength Spiralead tinsel leads woven through for maximum transfer of signal.
A KICKER standard, the one-piece UniPlate, features the vented pole piece and bumped back plate that's tapered toward the edge to improve the magnetic force within the gap, optimizing that magnetic energy. The "bump" provides added voice-coil clearance, assuring precise performance. P coil wire winding around the pole piece and innovative Quad Venting slots contribute to the woofers' efficient cooling attributes and durability. More Magnet: With a double stacked magnet, the CompR provides powerful bass and a thunderous low-end response for the thump you crave when the volume knob needs a workout.
More Features: Kicker signature red double stitching makes an outstanding bond between the improved Santoprene® surround and a new all-polypropylene woofer cone. You get a deeper bass that stays pumping, no matter what the volume. Two Coils, One Solution: Every CompR has two sets of brass voice coil terminals, spring-loaded and covered in a lustrous satin nickel finish.
A simple push of the terminal gives you the wiring options you need to get the most out of your system. The CompR 10-Inch Subwoofer is a 4 dual voice coil design, making it easy to get the most out of your amp. An advanced suspension and heat management system helps to keep the bass powerful, deep and consistent all without a hint of distortion. The CompR 10-Inch Subwoofer works best with a sealed or ported enclosure and 400 watts of recommended power.
Kicker 43CWR104 10 400 Watt Dual Voice Coil 4-Ohm Car Stereo Subwoofer. Best subwoofer in its class. Workhorse woofer with advanced components and superior technology. Large-diameter, progressive-roll spider with high-strength Spiralead tinsel leads. One-piece UniPlate with vented pole piece and bumped back plate.
Added voice-coil clearance for full excursion; high-temp coil wire. Quad Venting included vertical and horizontal slots under the cone for ultimate cooling. Injection-molded polypropylene cone and tough Santoprene® surround.
Full-coverage steel basket with minimized mounting depth. Dual 4-Ohm high-temperature voice coils. Min Sealed Box Vol : 0.8 cu. Max Sealed Box Vol : 1.25 cu.
Min Vented Box Vol : 1.25 cu. Max Vented Box Vol : 1.75 cu.
Frequency Response : 25 - 500Hz. Subwoofer Design : Round / Circle.
Rockville Dual 10 Sub Enclosure Box 07-13 GMC/Chevy Sierra/Silverado Crew Cabs. Mounting diameter (hole size): 9 (inches). Air space: 0.9 Cubic feet.
Material: Highest-grade MDF wood on the market. About Rockville Quality Control Procedures. The Rockville brand stands for Quality, Innovation and Value. We aim to deliver products twice as good as our competitors at a fraction of the cost of famous brands. All Rockville products go through the most rigorous quality control standards in the industry.
Products go through months of extensive testing before they reach your hands. All functions and components are tested for quality. Rockville makes products that are virtually un-breakable! Rockville is one of the only brands in its class to have engineers and technicians test every concept model for weeks or months before starting production.
Once production begins, Rockville sends product engineers to the factory to quality control every product. After production is complete Rockville has the head of QC in our overseas office test a certain percentage of all products from the production line a second time to ensure that the quality meets our strict standards. Complete Dual Subwoofer Enclosure Installation Kit! This accessory package includes everything you need to install two subwoofers into an enclosure, and wire your enclosure to your amplifier.
This package is a top of the line accessory package which we put together and tested. The drywall wood screws were hand selected by our installation experts because they drill into the enclosure very cleanly, without chipping the enclosure. The speaker wire is 14 gauge. This is way better than using 16 gauge. You can be 100 % sure that your enclosure will have a clean signal to the amplifier with this top of the line speaker wire.
These spade terminals have also been hand selected by our installation experts to make the internal wiring simple, secure, and to run the audio signal cleanly. Over the years, the technology used to create audio amplifiers has grown by leaps and bounds. We consider it our mission to use our expertise in developing the latest technologies and to bring you the absolute best sounding amplifiers on the market and of course at a reasonable price.
From its clean, sleek design to its high quality components, you will be amazed at the quality and power that these new Phenom amps offer. The RXD-M2 is a class D monoblock high power amplifier with 3,000 watts peak output, 1,500 watts RMS output and 750 watts CEA-2006 rated power. It is CEA-2006 compliant which makes it easy to compare this amplifier to other CEA compliant amps on the market. The issue the car audio world is facing today is that there are so many different brands with different standards on how they rate their products. Here at Rockville we offer the best value in car audio.
We therefore want to make it easy for you to compare our products to any brands on the market. So we provided 3 ratings for all our car amplifiers.
This peak power is the amount of power the amp puts out at the loudest moments during a particular song. This formula almost always works within 20 %. Compare this to other amps on the market with similar fuse ratings and youll see that with the RXD-M2 you are getting your moneys worth and then some. This unit also features a high speed MOSFET power supply and studio-grade bipolar output stage transistors. It has a fully adjustable 12dB/Octave cross over with differential circuitry. Other features include a subsonic filter, a fully adjustable bass equalizer, mute and delay soft start technology, a phase control switch, and a dashboard subwoofer control for added convenience. The RXD-M2 is protected by a full IC controlled circuit and has professional peak limiter circuitry guaranteeing distortion free musical playback at all levels. The RXD mono amplifiers took years of engineering. A lot of new technology went into these amps. We call this technology optical coupler Class-D. This new technology gives the amplifier punchier bass compared with a typical class D amp. A major difference in our OC technology is the preamp input stage and output stage are separated in circuitry.
It is less susceptible to noise, which typically is picked up from the preamp input. The RCA input accepts both balanced and un-balance inputs. If there is potential inference in the car, the balanced input signal is less susceptible to noise. The Phenom amps by Rockville use only the top parts. We use Siemens correction capacitors which are well-known for producing crystal clear sound quality.
We use TL072 OP (power supply) which is composed of mosfets. Typical class D amps use JRC4558, which is composed of transistors only. Mosfet power supplies have a higher speed, lower loss rate, lower noise, and ultimately supply more efficient and clean power along with lower THD (distortion).
We redesigned the layout of the PCB boards to allow the amp to run smooth and cool. Each and everything amplifier we manufacture is tested twice. Once at the semi-finished PCB stage of production and then another test is done at the final assembly. We also run age tests on them. After this is all done, we hire a 3rd party independent company unaffiliated with our factory or with us to go to the factory and do random inspections of the power and over 20 other tests.
We guarantee these amps will satisfy you. (Amp must be complete along with the box). Rockville RXD-M2 3000 Watt/1500w RMS Mono Class D 1 Ohm Car Stereo Amplifier With Optical Coupler Technology. (Rated at less than 1 % distortion).
(Use these CEA ratings when matching and comparing with other CEA compliant brands such as Kicker, Rockford Fosgate, etc). 1 Ohm: 750 Watts x 1 Channel <1% THD+N.
2 Ohm: 550 Watts x 1 Channel <1% THD+N. 4 Ohm: 400 Watts x 1 Channel <1% THD+N. (Use these RMS ratings when comparing with great brands such as Hifonics, Earthquake, Soundstream, etc). 1 Ohm: 1500 Watts x 1 Channel.
2 Ohm: 1100 Watts x 1 Channel. 4 Ohm: 800 Watts x 1 Channel. Peak: The amount of power the amplifier can produce for a split second at the loudest part of a song. 1 Ohm: 3000 Watts x 1 Channel.
2 Ohm: 2200 Watts x 1 Channel. 4 Ohm: 1600 Watts x 1 Channel.
Optical Coupler Class D Technology. Studio-Grade Bipolar Output Stage Transistors. Now exclusively with Professional Peak Limiter Circuitry which guarantees distortion free musical playback at all levels. Fully Adjustable 12dB / Octave Crossover with Differential Circuitry. Low Pass Filter: 50Hz - 250Hz.
Subsonic Filter: 15Hz - 55Hz. Fully Adjustable 12dB Bass Equalizer. Mute and Delay Soft Start System.
Minimum THD at Rated Power: < 0.05%. S / N Ratio: > 100dB. Frequency Response: 10Hz - 500Hz. Dual 40 Amp Maxi Fuse. Dimensions: (W x H x L) 8.6"x 2" x 13.7.
The Rockville RWK41 4 AWG (American Wire Gauge) amp kit has the following differences over other amp kits on the market at this price point. Our RCA cables are 100 % copper. These are top of the line RCA cables. This is a measurement of conductivity and how much signal is loss per foot of wire.
We do not cheat you on the thickness of the wire. These are standard American wire gauge thickness.
This is another reason our conductivity is better than anything else at this price point. Other brands in the market place write 4 gauge, but cheat you on the thickness. We are honest about the thickness. The Rockville amplifier installation kits feature a new soft abrasion proof insulating jacket. This rugged PVC outer jacket allows for 100% improved flexibility over standard power cables making them extremely easy to route through your vehicles interior, and it maintains exceptional resistance to grease and oil.
The PVC outer jacket can with-stand an extreme temperature range of -40 to 220 degrees F. The RCA signal transfer cables included in this kit feature blue and silver twisted pair technology in a clear outer jacket insulation skin. Not only do the blue and silver wires look cool but they also provide superior signal transfer with maximum noise suppression. They are 100% copper to provide absolute lossless perfect signal transfer to your receiver.
This technology reduces interference, so your audio signal flows clean and pure at all power levels. This kit also includes a massive 60 Amp AGU Gold Plated Fuse, so you can be sure it will handle the all the DC power that your amp will need without even the slightest loss of current.
The included 7 split loom tube provides protection for your power cable from the typically harsh environment found under the hood of your car. Audiosavings product experts have tested this amp kit against many leading amp kits on the market and were were impressed not only by the great looks but by the quality of these Rockville installation kits as well.
What this means is that Rockville manufactures their kits with more copper than other kits at this price point, ultimately providing your amplifiers with better and cleaner DC power, so they work cooler and more efficiently. You will hear the difference a Rockville installation kit will make! 1 17 High Grade Twisted Pair of 100% Copper RCA Cable. 17 4 Gauge Translucent Blue SuperFlex Power Cables. 17 18 Gauge Blue Remote Cable. 17 16 Gauge Clear Speaker Wire. 3 4 Gauge Clear SuperFlex Ground Wire. Gold Plated AGU Heat Resistant Fuse Holder. 60 Amp AGU Gold Plated Fuse. Accessories Included: Wire Ties, Ring Terminals, Butt Connectors, Spades, and Grommets.
If your item is defective or you want to return it for any reason within the first 30 days of when it was delivered to you; you have the following options. We will send you a.
To replace the item for a brand new one. All replacements and exchanges are free.
This includes blown speakers with burned voice coils. The item "Sub Box+(2) Kicker 10 Subwoofers+Amp+For 07-13 GMC/Chevy Sierra/Silverado Crew" is in sale since Thursday, October 19, 2017. This item is in the category "Consumer Electronics\Vehicle Electronics & GPS\Car Audio\Car Subwoofers". The seller is "audiosavings" and is located in Inwood, New York.
This item can be shipped to United States, Canada, United Kingdom, Denmark, Romania, Slovakia, Bulgaria, Czech republic, Finland, Hungary, Latvia, Lithuania, Malta, Estonia, Australia, Greece, Portugal, Cyprus, Slovenia, Japan, China, Sweden, South Korea, Indonesia, Taiwan, South africa, Thailand, Belgium, France, Hong Kong, Ireland, Netherlands, Poland, Spain, Italy, Germany, Austria, Bahamas, Israel, Mexico, New Zealand, Philippines, Singapore, Switzerland, Norway, Saudi arabia, Ukraine, United arab emirates, Qatar, Kuwait, Bahrain, Croatia, Malaysia, Brazil, Chile, Colombia, Costa rica, Panama, Trinidad and tobago, Guatemala, Honduras, Jamaica, Antigua and barbuda, Aruba, Belize, Dominica, Grenada, Saint kitts and nevis, Turks and caicos islands, Barbados, Bangladesh, Bermuda, Brunei darussalam, Bolivia, Ecuador, Egypt, French guiana, Guadeloupe, Iceland, Cambodia, Cayman islands, Sri lanka, Martinique, Maldives, Nicaragua, Oman, Peru, Pakistan, Paraguay, Reunion, Viet nam, Uruguay.
Brand: Kicker
MPN: (2) 43CWR104 VEH 2
UPC: 613815986294
Model: (2) 43CWR104 VEH 2
Country/Region of Manufacture: China
RMS Power: 400W
Speaker Size: 10"
Type: Enclosed Powered
Voice Coil: Dual
Fitment: Under Seat